I am a sucker for a good Belgian Beer and on a recent trip to Grand Rapids, I found Brewery Vivant.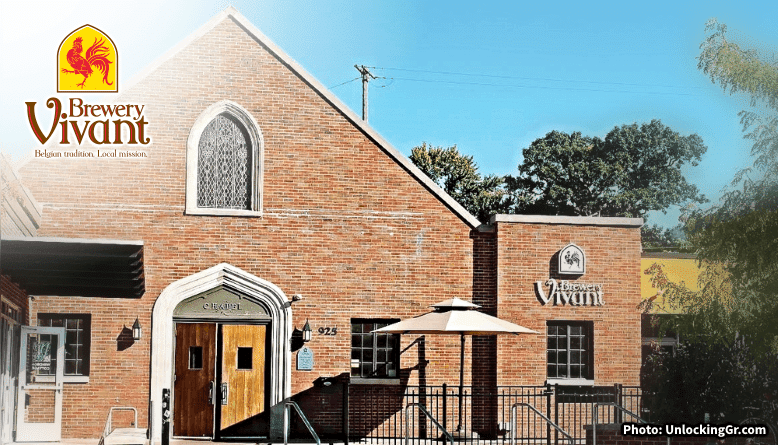 Located in a remodeled funeral home, it has been turned into a welcoming and wonderful place to eat and drink. Long communal benches, seats at the bar and an outdoor area make this a great space for everyone.
Food
They have a food menu that is Belgian/French in style. I had frites (of course) and escargot. They offer roasted bone marrow, cheese plates and duck confit nachos. I would go back here again just for the food. But that is not what I want to talk about here, or why I have been telling everyone to go to Brewery Vivant.
Beer (Bier)
They have a tap list that also includes many barrel-aged beers. Stouts, sours, farmhouse and IPAs. They also have a chalk board with some additional beers.
I had 2 different flights (don't worry, I took Uber) and every one was above average.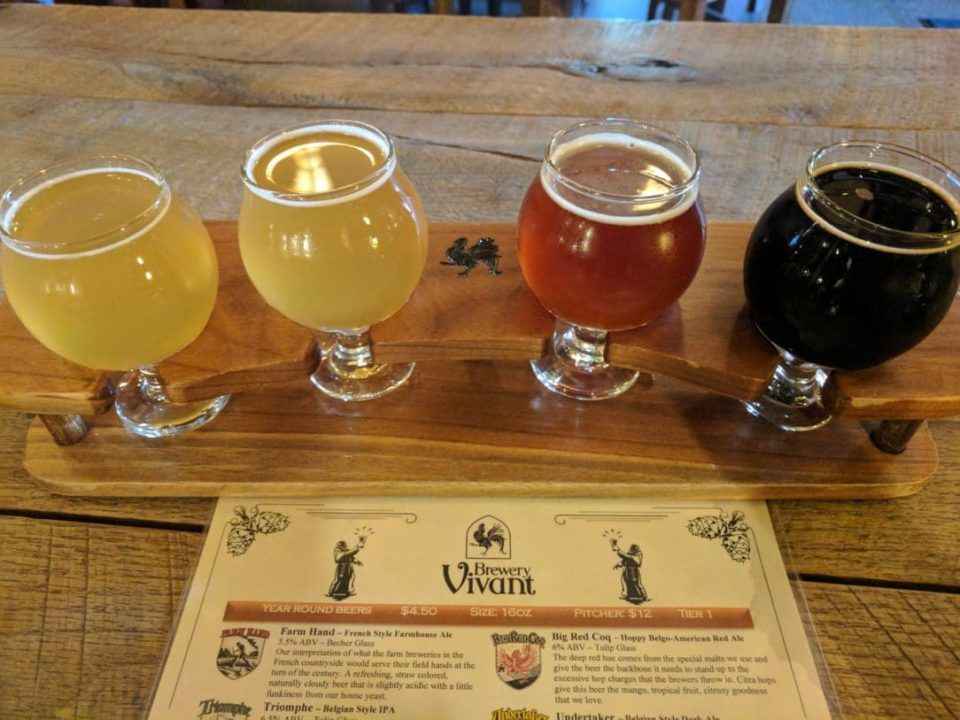 Farm Hand – Saison / Farmhouse Ale
A 5.5% ABV Saison that has very nice light flavors and might be a little too easy to drink.
House Sour – Foeder-Aged Sour Ale
This 4.5% ABV sour would be a great starter sour for those who have not spent the time to develop the taste for or don't have the desire for the more aggressive sours out there.
Love Shadow – Port Barrel-Aged Imperial Stout
This one they aged in different barrels, the one I had was port barrel-aged, the current one is bourbon barrel-aged. Good stout with a strong coffee finish. Oh, and a 11.7% ABV.
Escoffier – Mixed Culture Farmhouse Ale (American Wild Ale)
This is a collaboration with New Belgium brewing. This is a mild sour with great funk. 10% ABV.
Port Love – Stout
This strong 9.5% ABV port barrel-aged stout has a nice complex flavor profile.
Tree Bucket – Double IPA
This was the only IPA I had here. A strong one at 9% ABV. This a a great hoppy and fruity beer.
Zaison – Imperial Saison / Farmhouse Ale
This was the most dangerous beer I had. A light and tasty beer at 9.3% ABV. This one will sneak up on you.
Angelina – Barrel-Aged Sour (2017)
This was my favorite beer of the night.  An oak barrel-aged sour coming in at around 10% ABV. Packed full of flavor and pucker.
If you ever find yourself near Grand Rapids, this is a must stop for anyone who loves beer in the Belgian style.
Oh, the staff. The ones I spoke to knew about beer in general and the house brews, and were friendly and chock full of knowledge.