I first found out about the Brew Dogs from their TV show. James and Martin traveled the US and made beer in various strange ways. From a dog sled to underwater. The two Scottish brewing geniuses found fame in 2008 by winning a bottled beer competition put on by the grocery store chain Tesco. They won, first, second, third and fourth place. They were asked to supply Tesco with two thousand cases per week. This is where the story began….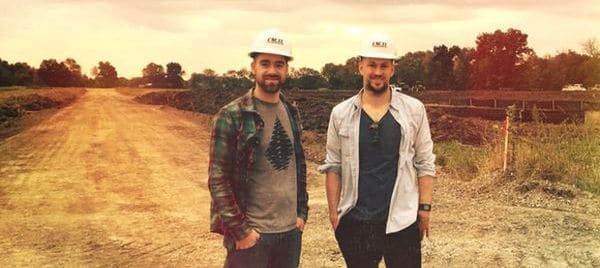 Now they have a huge and expanding brewery in Scotland. They just opened a brewery, tap room and restaurant in Columbus, OH and are going to build another in Australia.
The Columbus location will also have a beer themed hotel. On my recent visit I was impressed by everything. The staff is very friendly and really knows the beers they brew.
I started off with a flight of beers.
I had this four beer flight and two more after.
The Beers
The Punk IPA is their flagship beer and I understand why. It has a 45 IBU, 5.6% ABV and a wonderful funky flavor and great hops.
The Jet Black Heart is a lush milk stout that is crying out to be made into a float or baked into brownies. 4.7% ABV and 30 IBU
The Cocoa Psycho is a heavy weight at 10% ABV and 85 IBU. With the added coffee beans, vanilla pods cacao nibs and malts, this is a must if you like dark things. Like the Jet Black, I will make this into an ice cream float at some point or maybe just make into ice cream…. (and I don't like coffee beers)
The Dead Pony Club is a mild APA with a sneaky and yummy hop hit at the end for only 25 IBU. At 3.8% ABV, this is a great session beer.
The Elvis Juice has a completely unexpected flavor, not that I know what to expect from Brew Dog. The malt and grapefruit in flavor are exciting. Much fruitier than I am used to in an IPA. High 6.5% ABV and 40 IBU.
The Hop Fiction Pale Ale is a brew tasty enough to be a session ale but at 5.2% ABV, I advise against it. Smells like a slice of hop heaven with a 40 IBU and goes down easy. Too easy.
Creative flavors abound and they are just starting to tap the beers they have brewed in the US instead of those shipped over from the HQ in Scotland.
The Brewery, Bar and everything else
This is a large place with ample seating and an inviting bar. Who ever did the decorating had fun. There are great murals and art all over the place.
I had the Meat and Cheese Stack for dinner and it went well with my flight. They have a full kitchen on site and everyone I asked was happy with their food. It all smelled great.
After the flight and dinner I went on the tour. Our guide was the awesome Kayla. I have been on A LOT of brewery tours all over the US. This is an impressive place. There have cut no corners in order to make stellar beers in huge quantities. They have some equipment I had not seen before, like the "hopinators". The brewery is also built for expansion. They can double their output without adding on to the building.
The staff made me feel like I was visiting a friend's house. I was invited to hang out with some of them after the tour and learned some great things about James and Martin. Like the fact they pay a living wage to the employees and are actually as nice as they seem. A company with happy employees speaks volumes.
This is a destination for any beer lover. Great beer made my people that not only love making tasty beer, but sharing it.
In full disclosure, I am an Equity Punk. This means I own "shares" in Brew Dog ( I own 4) I also helped them on the IndieGoGo campaign for the craft brewing hotel. But I get nothing for writing this post other than sharing the love of good beer.
"WE HAVE SWORN OUR ALLEGIANCE. THERE IS NO TURNING BACK. WE ARE THE CHANGE. AND SO ARE YOU. WE ARE BREWDOG AND THIS IS THE CRAFT BEER REVOLUTION. SO HELP ME DOG."
For the record, I use ride sharing all of the time if I am going to be drinking. Life is too good and too short to take the risk.
Be good to yourself and drink good beer.